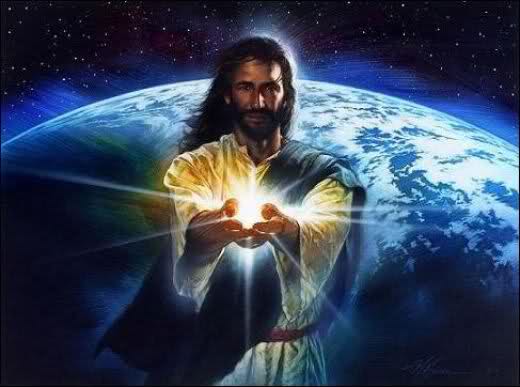 True Religion Revealed, Part 5 of 5

48 minutes and 59 seconds long
Host Brother Dave, a Jesusonian

Samples in this podcast:
The Urantia Book, public domain   [my added comments are in these brackets]
Paper 195 After Pentecost
5. The Modern Problem
195:5.8 Religion is designed to find those values in the universe which call forth faith, trust, and assurance; religion culminates in worship. Religion discovers for the soul those supreme values which are in contrast with the relative values discovered by the mind. Such superhuman insight can be had only through genuine religious experience.
6. Materialism
195:6.2 No matter what the apparent conflict between materialism and the teachings of Jesus may be, you can rest assured that, in the ages to come, the teachings of the Master will fully triumph. In reality, true religion cannot become involved in any controversy with science; it is in no way concerned with material things. Religion is simply indifferent to, but sympathetic with, science, while it supremely concerns itself with the scientist.
195:6.4 At the time of this writing [circa A.D. 1935] the worst of the materialistic age is over; the day of a better understanding is already beginning to dawn. The higher minds of the scientific world are no longer wholly materialistic in their philosophy, but the rank and file of the people still lean in that direction as a result of former teachings. But this age of physical realism is only a passing episode in man's life on earth. Modern science has left true religion -- the teachings of Jesus as translated in the lives of his believers -- untouched. All science has done is to destroy the childlike illusions of the misinterpretations of life.
9. Christianity's Problem
195:9.2 But paganized and socialized Christianity stands in need of new contact with the uncompromised teachings of Jesus; it languishes for lack of a new vision of the Master's life on earth. A new and fuller revelation of the religion of Jesus is destined to conquer an empire of materialistic secularism and to overthrow a world sway of mechanistic naturalism. All Earth is now quivering on the very brink of one of its most amazing and enthralling epochs of social readjustment, moral quickening, and spiritual enlightenment.
195:9.4 Religion does need new leaders, spiritual men and women who will dare to depend solely on Jesus and his incomparable teachings. If Christianity persists in neglecting its spiritual mission while it continues to busy itself with social and material problems, the spiritual renaissance must await the coming of these new teachers of Jesus' religion who will be exclusively devoted to the spiritual regeneration of men. And then will these spirit-born souls quickly supply the leadership and inspiration requisite for the social, moral, economic, and political reorganization of the world.
195:9.5 The modern age will refuse to accept a religion which is inconsistent with facts and out of harmony with its highest conceptions of truth, beauty, and goodness. The hour is striking for a rediscovery of the true and original foundations of present-day distorted and compromised Christianity -- the real life and teachings of Jesus. [Presented in this 2097 page Fifth Epochal Revelation of Truth; and Jesus' Omnipresent Father-Son Spirit of Truth and the Holy Spirit are freely available to all humans who seek and love truth, beauty and goodness and more ...]
Paper 196 The Faith of Jesus
2. The Religion of Jesus
196:2.4 But the greatest mistake was made in that, while the human Jesus was recognized as having a religion, the divine Jesus (Christ) almost overnight became a religion. Paul's Christianity made sure of the adoration of the divine Christ, [good !] but it almost wholly lost sight of the struggling and valiant human Jesus of Galilee, who, by the valor of his personal religious faith and the heroism of his indwelling Adjuster, ascended from the lowly levels of humanity to become one with divinity, thus becoming the new and living way whereby all mortals may so ascend from humanity to divinity. Mortals in all stages of spirituality and on all worlds may find in the personal life of Jesus that which will strengthen and inspire them as they progress from the lowest spirit levels up to the highest divine values, from the beginning to the end of all personal religious experience.
196:2.11 Jesus offered no rules for social advancement; his was a religious mission, and religion is an exclusively individual experience. The ultimate goal of society's most advanced achievement can never hope to transcend Jesus' brotherhood of men based on the recognition of the fatherhood of God. The ideal of all social attainment can be realized only in the coming of this divine kingdom.
3. The Supremacy of Religion
196:3.33 Page-2097 "Be not discouraged; human evolution is still in progress, and the revelation of God to the world, in and through Jesus, shall not fail." [Very True ! Amen ! Let us strive to help our Good Master Jesus Christ in this work; as He so calls us !] 
Truth-seekers and Truth-finders should find interesting facts, higher meanings, and spiritual values in our shows.
Please visit my large website http://www.PureChristians.org/ or (same website) http://www.LedByJesus.org/
There, scroll about 30% down that page and you may read, download and share my ALWAYS FREE 100 page .pdf of spiritual highlights in my books on the nature, life and teachings of our Sovereign Savior Jesus Christ ! Profound Theology and spirituality to share !
Love, peace and sure progress in Spirit and in Truth !