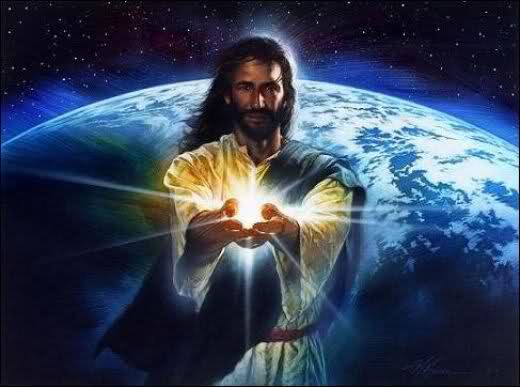 JESUS IS Now Here as The Spirit of Truth, Part 5
44 minutes and 5 seconds long
Host Brother Dave, a Jesusonian

Samples in this podcast:
The Urantia Book, public domain   [my added comments are in these brackets]
PAPER 181. Final Admonitions and Warnings
1. Last Words of Comfort
181:1.4 [Jesus:] "The Father sent me into this world, but only a few of you have chosen fully to receive me. I will pour out my spirit upon all flesh, but all men will not choose to receive this new teacher as the guide and counselor of the soul. But as many as do receive him shall be enlightened, cleansed, and comforted. And this Spirit of Truth will become in them a well of living water springing up into eternal life."
PAPER 190. Morontia [Soul] Appearances of Jesus
5. The Walk with Two Brothers
[On the Road to Emmaus. The powerful, soul-uplifting, True Gospel from Jesus !! Please share widely.]
190:5.4 As they walked along, Jesus said to them: "How slow you are to comprehend the truth! When you tell me that it is about the teachings and work of this man that you have your discussions, then may I enlighten you since I am more than familiar with these teachings. Do you not remember that this Jesus always taught that his kingdom was not of this world, and that all men, being the sons of God, should find liberty and freedom in the spiritual joy of the fellowship of the brotherhood of loving service in this new kingdom of the truth of the heavenly Father's love? Do you not recall how this Son of Man proclaimed the salvation of God for all men, ministering to the sick and afflicted and setting free those who were bound by fear and enslaved by evil? Do you not know that this man of Nazareth told his disciples that he must go to Jerusalem, be delivered up to his enemies, who would put him to death, and that he would arise on the third day? Have you not been told all this? And have you never read in the Scriptures concerning this day of salvation for Jew and gentile, where it says that in him shall all the families of the earth be blessed; that he will hear the cry of the needy and save the souls of the poor who seek him; that all nations shall call him blessed? That such a Deliverer shall be as the shadow of a great rock in a weary land. That he will feed the flock like a true shepherd, gathering the lambs in his arms and tenderly carrying them in his bosom. That he will open the eyes of the spiritually blind and bring the prisoners of despair out into full liberty and light; that all who sit in darkness shall see the great light of eternal salvation. That he will bind up the brokenhearted, proclaim liberty to the captives of sin, and open up the prison to those who are enslaved by fear and bound by evil. That he will comfort those who mourn and bestow upon them the joy of salvation in the place of sorrow and heaviness. That he shall be the desire of all nations and the everlasting joy of those who seek righteousness. That this Son of truth and righteousness shall rise upon the world with healing light and saving power; even that he will save his people from their sins; that he will really seek and save those who are lost. That he will not destroy the weak but minister salvation to all who hunger and thirst for righteousness. That those who believe in him shall have eternal life. That he will pour out his spirit upon all flesh, and that this Spirit of Truth shall be in each believer a well of water, springing up into everlasting life. Did you not understand how great was the gospel of the kingdom which this man delivered to you? Do you not perceive how great a salvation has come upon you?"
PAPER 193. Final Appearances and Ascension
0. Introduction
193:0.5 [Jesus:] "Among yourselves, here, you share the knowledge that I have risen from the dead, but that is not strange. I have the power to lay down my life and to take it up again; the Father gives such power to his Paradise Sons. You should the rather be stirred in your hearts by the knowledge that the dead of an age entered upon the eternal ascent soon after I left Joseph's new tomb. I lived my life in the flesh to show how you can, through loving service, become God-revealing to your fellow men even as, by loving you and serving you, I have become God-revealing to you. I have lived among you as the Son of Man that you, and all other men, might know that you are all indeed the sons of God. Therefore, go you now into all the world preaching this gospel of the kingdom of heaven to all men. Love all men as I have loved you; serve your fellow mortals as I have served you. Freely you have received, freely give. Only tarry here in Jerusalem while I go to the Father, and until I send you the Spirit of Truth. He shall lead you into the enlarged truth, and I will go with you into all the world. I am with you always, and my peace I leave with you."
2. The Phoenician Appearance
193:2.2 [Jesus:] "Peace be upon you. You rejoice to know that the Son of Man has risen from the dead because you thereby know that you and your brethren shall also survive mortal death. But such survival is dependent on your having been previously born of the spirit of truth-seeking and God-finding. The bread of life and the water thereof are given only to those who hunger for truth and thirst for righteousness — for God. The fact that the dead rise is not the gospel of the kingdom. These great truths and these universe facts are all related to this gospel in that they are a part of the result of believing the good news and are embraced in the subsequent experience of those who, by faith, become, in deed and in truth, the everlasting sons of the eternal God. My Father sent me into the world to proclaim this salvation of sonship to all men. And so send I you abroad to preach this salvation of sonship. Salvation is the free gift of God, but those who are born of the spirit will immediately begin to show forth the fruits of the spirit in loving service to their fellow creatures. And the fruits of the divine spirit which are yielded in the lives of spirit-born and God-knowing mortals are: loving service, unselfish devotion, courageous loyalty, sincere fairness, enlightened honesty, undying hope, confiding trust, merciful ministry, unfailing goodness, forgiving tolerance, and enduring peace. If professed believers bear not these fruits of the divine spirit in their lives, they are dead; the Spirit of Truth is not in them; they are useless branches on the living vine, and they soon will be taken away. My Father requires of the children of faith that they bear much spirit fruit. If, therefore, you are not fruitful, he will dig about your roots and cut away your unfruitful branches. Increasingly, must you yield the fruits of the spirit as you progress heavenward in the kingdom of God. You may enter the kingdom as a child, but the Father requires that you grow up, by grace, to the full stature of spiritual adulthood. And when you go abroad to tell all nations the good news of this gospel, I will go before you, and my Spirit of Truth shall abide in your hearts. My peace I leave with you."
3. Last Appearance in Jerusalem
193:3.2 [Jesus:] "Peace be upon you. I have asked you to tarry here in Jerusalem until I ascend to the Father, even until I send you the Spirit of Truth, who shall soon be poured out upon all flesh, and who shall endow you with power from on high." Simon Zelotes interrupted Jesus, asking, "Then, Master, will you restore the kingdom, and will we see the glory of God manifested on earth?" When Jesus had listened to Simon's question, he answered: "Simon, you still cling to your old ideas about the Jewish Messiah and the material kingdom. But you will receive spiritual power after the spirit has descended upon you, and you will presently go into all the world preaching this gospel of the kingdom. As the Father sent me into the world, so do I send you. And I wish that you would love and trust one another. Judas is no more with you because his love grew cold, and because he refused to trust you, his loyal brethren. Have you not read in the Scripture where it is written: 'It is not good for man to be alone. No man lives to himself'? And also where it says: 'He who would have friends must show himself friendly'? And did I not even send you out to teach, two and two, that you might not become lonely and fall into the mischief and miseries of isolation? You also well know that, when I was in the flesh, I did not permit myself to be alone for long periods. From the very beginning of our associations I always had two or three of you constantly by my side or else very near at hand even when I communed with the Father. Trust, therefore, and confide in one another. And this is all the more needful since I am this day going to leave you alone in the world. The hour has come; I am about to go to the Father."
5. The Master's Ascension
193:5.2 [Jesus:] "I bade you tarry in Jerusalem until you were endowed with power from on high. I am now about to take leave of you; I am about to ascend to my Father, and soon, very soon, will we send into this world of my sojourn the Spirit of Truth; and when he has come, you shall begin the new proclamation of the gospel of the kingdom, first in Jerusalem and then to the uttermost parts of the world. Love men with the love wherewith I have loved you and serve your fellow mortals even as I have served you. By the spirit fruits of your lives impel souls to believe the truth that man is a son of God, and that all men are brethren. Remember all I have taught you and the life I have lived among you. My love overshadows you, my spirit will dwell with you, and my peace shall abide upon you. Farewell."
Truth-seekers and Truth-finders should find interesting facts, higher meanings, and spiritual values in our shows.
Please visit my large website http://www.PureChristians.org/ or (same website) http://www.LedByJesus.org/
There, scroll about 30% down that page and you may read, download and share my ALWAYS FREE 100 page .pdf of spiritual highlights in my books on the nature, life and teachings of our Sovereign Savior Jesus Christ ! Profound Theology and spirituality to share !
Love, peace and sure progress in Spirit and in Truth !